Lighting Electricians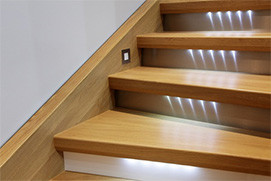 When it comes to home and office lighting, we are the specialist lighting electricians. LED lighting, decorative lighting, downlights and outdoor lighting; we do it all.
Having the correct lighting in your home has a huge impact on the atmosphere and usability of your indoor and outdoor spaces.
Our professional lighting electricians can provide suggestions and fully quote you job. Contact us for a lighting installation quote.
LED Lighting
In addition to standard lighting, LED lighting is great for mood lighting and accent lighting. Not only does it look great, it can also reduce your lighting bill by up to 90%. LED lights can last more than 20 times longer than halogen bulbs, and often have a lifespan of 5+ years of continuous use.
Mepstead electrical can upgrade your home lighting to LED lights, and we can install lighting in your home theatre, kitchen, stairwell and outside.
Downlights
Downlights are still modern and attractive. We can ensure the downlights used in your house are safe, and replace them with something that is.
Outdoor Lighting
We can install outdoor lighting around your pool, patio, pergola and garden. Outdoor lighting creates an amazing atmosphere that you will enjoy with your family and friends for years to come.