Modern Switchboards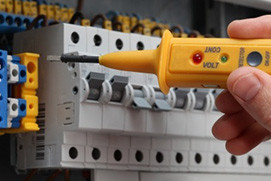 An outdated switchboard could be the cause of issues with your lighting and electrical appliances. Old switchboards and obsolete fuse boxes are not up to the requirements of the modern home, and do not provide enough safety.
Your home is overdue for a switchboard upgrade if you have ceramic fuses or if you experience:
Blown fuses
Power outages
Flickering lights
Frequent power tripping
In many cases you are required by law to upgrade your old switchboard when you have air conditioning installed, and if you are planning to install solar panels then your switchboard will need to be reviewed.
Our professional electricians will evaluate your current switchboard and house wiring to provide you with an accurate quote of the cost involved to upgrade your switchboard or install a switchboard into your new home. Contact us for an obligation free quote.